Driveway Replacement
Does your driveway have major cracks, lifting/sinking sections, or other problems?

Whether you need a new concrete driveway, your driveway needs to be replaced or it just needs to be extended or widened, we can help!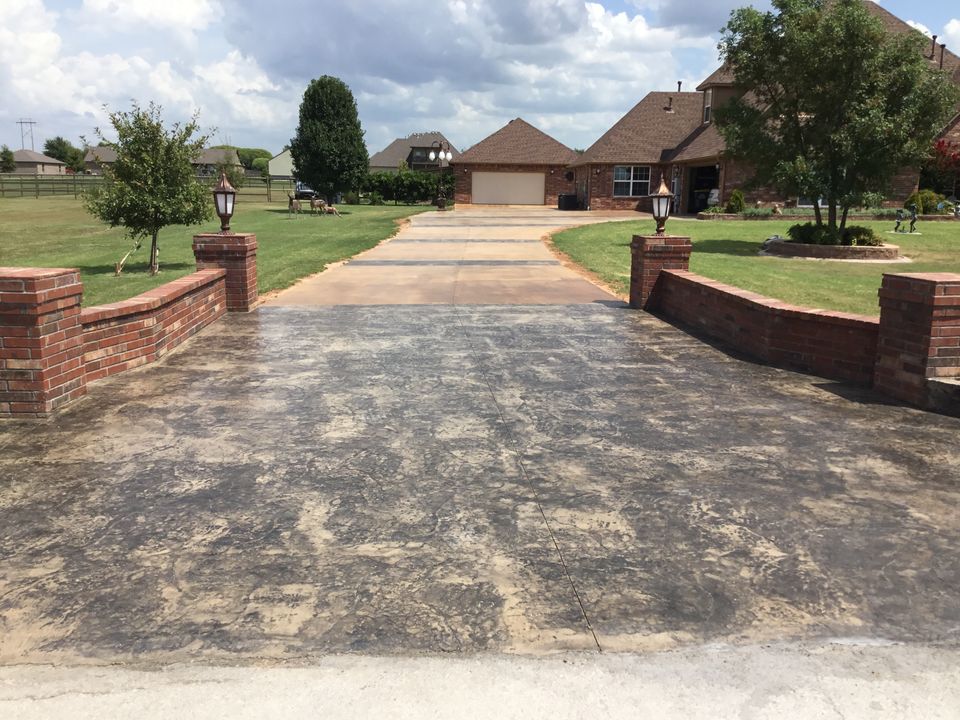 Concrete Driveways - Engineered and Designed to Last

A driveway is a critical part of the modern home and is a major factor in a home's curb appeal. A properly designed and constructed driveway should be beautiful, durable, and functional. It should serve your needs now and for decades to come.

Our driveways are designed to fit your needs and wants, and are engineered to last. We use 4000-psi concrete, which has a one-third greater compressive strength than the concrete required by most local codes.

Additionally, we include elevated #3 rebar on 18" centers. This is 33% more rebar than that used by most other companies that include rebar, and the fact that we elevate our rebar to the center of the pour is a key element in the strength and longevity of our concrete. The rebar reinforces the concrete and prevents major lifting, horizontal shear, or separation of the concrete pour over time.

This all goes on top of the prep work underneath which includes a 2" compacted gravel base. The gravel base improves subsoil drainage, helps to prevent washouts, and protects against the natural expansion/contraction of the clay in our local soil.

 
Paver Driveways - An Elegant Option

We also have many stylish and customizable options for driveway designs that include concrete/brick pavers. The pavers can complement concrete pours or be used for the entire driveway. The pricing for pavers is generally comparable to concrete, though the process and timetable can differ between the two options.

We have many colors and styles of pavers available, and they can be laid in a wide variety of patterns to blend with your home's aesthetic look and feel. Paver driveways can be permeable, which means that they can drain surface water away without as much runoff. The pavers are laid on a base of sand that helps to absorb any movement and deformation caused by vehicle traffic.


 

Read What Our Customers Think
★★★★★
"
I just had my 1,500 sq ft driveway replaced by Pat Owen with Select Outdoor Solutions and couldn't be more pleased.

Pat was on hand during my 3-day project and was on top of any issues that arose as well as answering my many questions.

     I would, without hesitation, recommend Pat and Select Outdoor Solutions for any concrete
or outdoor projects you may be considering.

.

"     — Will Streetman, Tulsa, OK